Corporate Gifting Menu
This is the perfect option for businesses that need custom branded candles, room sprays, diffusers, or gift sets! We offer 2 different options to make things as easy and cost effective as possible for you:

Bulk Gifting: This is the perfect option for companies that want to gift custom candles and send in one shipment to one address. This is great for: Conferences, Party Favors / Swag Bags, Employee Gifts, Design Firms, Giveaways, and so much more. Since this is a mass order this is the most cost effective option!
Gifting Concierge: This option was made for companies that can't store bulk candles and don't want to deal with shipping individually to clients. We keep a template and some ready made candles on hand so you send us an address and we send it directly! This is our easiest option to make gifting as easy as possible.

Continue down to see a brief overview of the process, our offerings, and previous work. Don't have time? Contact us using the link below.
Contact Us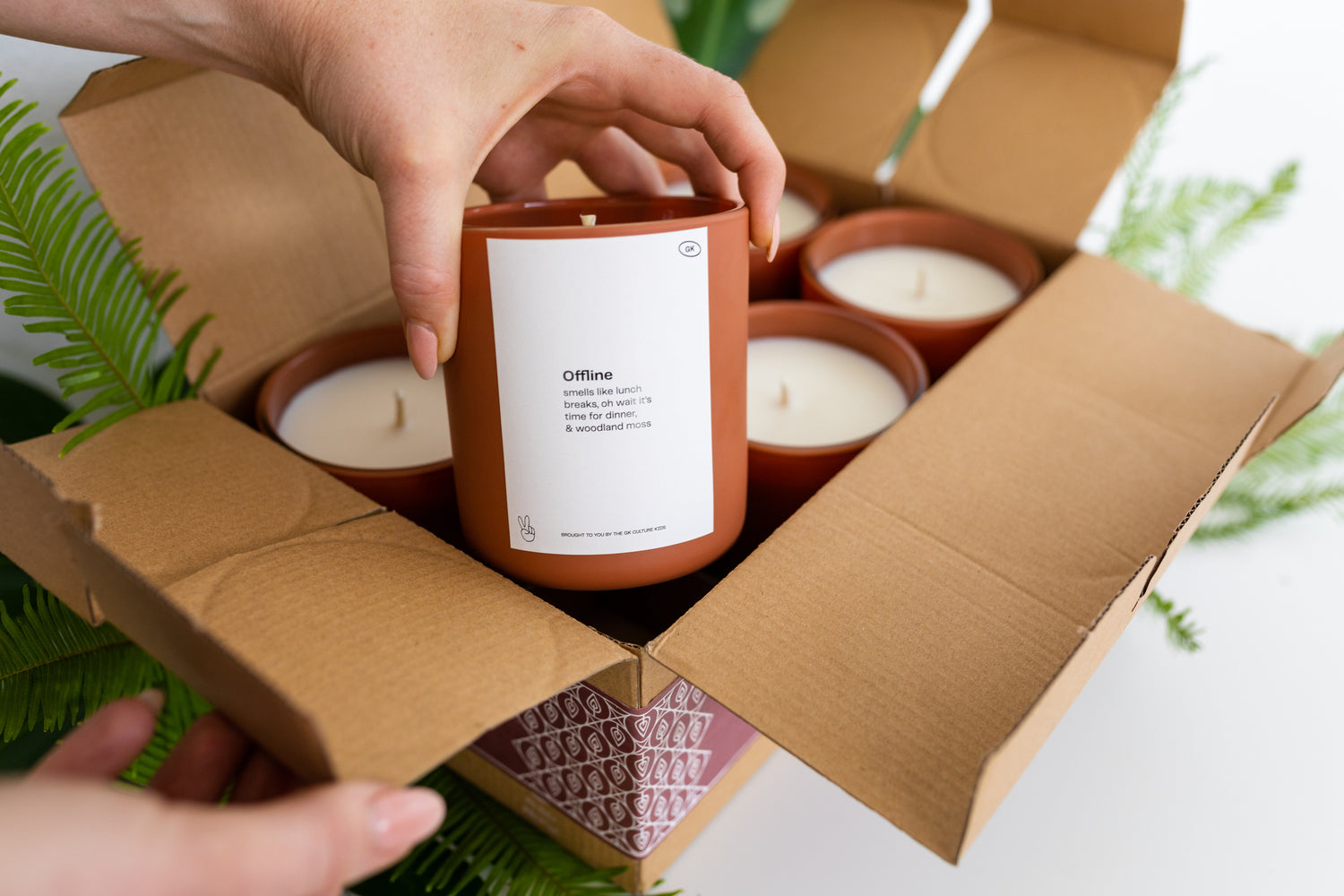 Where to Start
Sending a Brand Logo- Send us all your logo options! This includes colors, fonts, slogans and any ideas, needs, and/or wants you have. It is a great place for us to start and customize our offer for you. This is a streamlined way of getting us to the perfect options.
Need Inspiration? Email us at info@standardwax.com to see our full menu of classics and previous work. Don't know where you want to start? This is a great place! 
The Process
Step 1: Planning

Start thinking about inspiration, materials, size, and scent varieties that you may want. The more thoughts you have the easier it is for us to find exactly what you are looking for!

Step 2: Choose a Vessel

Choose from our library of curated vessels or we can source the perfect match for you. Knowing what size and material you want really helps narrow the search down.

Step 3: Choose a Scent

You will receive our scent kit of 12 Standard Fragrances to choose from.
If you don't find one you love, we absolutely can create one for you. If you want to go the route of a custom scent pricing starts at $500.

Step 4: Label Design

Once your vessel is choosen, we discuss label options for your print-ready design. If you need help with design, reach out for a quote.

Step 5: Choose Your Add-ons

Once your candle is complete (scent, vessel, and label) we can dive into the world of details. Do you want a box, a dust cover, a lid? All things will be discussed at this step.

Step 6: Enjoy!

We handle all the pouring, labeling, and shipping. So you are all ready to go!
Turn around time is about 3-4 weeks depending on time of year. Need it in a rush? Talk to us about expediting your order.

Vessel Options
APOTHECARY COLLECTION

This classic option is an easy way to create a complete look as it comes with custom top. Available in clear and amber with tops available in metal (gold, white, black) and plastic (white, black).

This option is our lowest price point for those looking to get the most value.

TUMBLER COLLECTION

This 9 oz. glass tumbler has been our top seller recently, so we expanded the collection. Above are our simple version that comes in clear, white, amber, and black. They are sleek and modern that lends itself perfectly to any branding.

METALLIC TUMBLER COLLECTION

The metallic version of the Tumbler is a great way to add some flair to your branding. The speckled version lights up the room beautifully at night and solid metallic colors bring sophistication and fun.

IRIDESCENT TUMBLER COLLECTION

This new version of the tumbler is stunning and unique. They come in the most beautiful colors that are perfect spring and summer. They are great way to add flair but still keeping colors muted.

MATTE TUMBLER COLLECTION

The matte version of the Tumbler brings luxury with a gold plating interior with rich emerald colors. This is our only offer with a two-tone look and we think this one brings it to a whole new level.

CERAMIC COLLECTION

This ceramic collection has a handmade feel without the price tag. This is a heavier more substantial vessel that comes in great spring/summer colors. This has been a huge hit since we launched it.

CLASSIC COLLECTION

This 12 oz. vessel is our largest offer with the most variety in color. This has a heavy luxe feel and is sure to be an easy choice for a colorful look. Not only is this available in 15 colors, we can create an custom color with a Pantone number.

CLASSIC COLLECTION AND LIDS

Lots of sophisticated lid options available for the classic collection as you can see above.

TIN COLLECTION

This is a great choice for clients that need a durable option. For example, swag bags, gift boxes, etc. This vessel will not break in transit and is a one stop shop for a cool tonal look with matching lid.

ROOM SPRAYS + DIFFUSERS

We also offer customization of room sprays and diffusers. This is a great add-on to your candle to make a complete gift set or a great stand alone long-lasting option.
Choosing a selection results in a full page refresh.